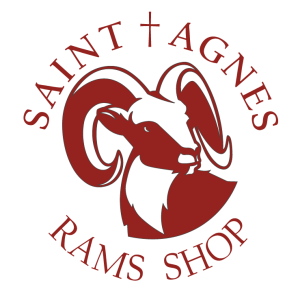 Welcome to the Rams Shop!  It is open for business right now and will close on November 30, 2017.  So don't wait to order!
Right now, there is a small selection offered.  We will continue to adjust and evolve as orders are placed and fulfilled.
NOTE:  This shopping experience will be open until November 30, 2017.  All orders will be processed at that time.  Orders will be delivered within two weeks to St. Agnes and will be ready for pick-up.
You will be notified by email when your order is ready for pick-up.  There will be two designated timeframes to pick up (one will be before school and one will be after school). After that time, items will be sent home with your oldest student.
A few more small print items:
There are no returns or exchanges.  Sales are final.  (There are samples in the St. Agnes office if you are concerned about sizing.)
Pricing does not include shipping.  Shipping is not offered at this time.
There are no additional fees.  The prices listed are the prices that will be charged at checkout.