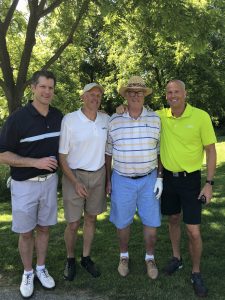 The St. Agnes Dads Club is an informal group of St. Agnes fathers who come together to support the school however needed. Over the years, Dads Club has helped in a variety of different school and parish committees in all the work they do include, but not limited to:
The Annual School Auction
CYO Sports
PTO
STREAM and Maker's Space initiatives
Rams Reaching Out Day
Knights of Columbus, John Roe Council #3020
Building and Grounds Committee
School Maintenance
Specific Teacher Requests
Field Trips and Other Learning Opportunities for St. Agnes Students
The proceeds from Dads Club fundraising events are designated to provide support in four "A" pillars which have a significant influence on student growth during formative primary school years.
The Four Pillars of Dads Club
Access: Ensure students of diverse socio-economic means can attend St. Agnes School and attain an excellent education.
Academics: Cultivate intellect through dynamic instruction, practical application and educational opportunities needed to create successful lifelong learners.
Apostolic: Nurture character development through high expectations, service, integrity, ethics and personal accountability.
Athletics: Enable structured activities to lay a foundation for physical fitness, emphasize healthy lifestyles and foster principles of teamwork and good sportsmanship.
St. Agnes School Golf Classic
The primary fundraising event for St. Agnes Dads Club is the St. Agnes School Golf Classic.  Thanks to our wonderful sponsors, donors and participants, each year St. Agnes Dads Club raises much needed funds which directly benefit the students and teachers at St. Agnes School. For more information regarding the St. Agnes School Golf Classic, visit: www.stagnesgolf.org.
Reasons to Get Involved in Dads Club
Get to know other St. Agnes parents and parishioners
Help out St. Agnes students and faculty
Share in the camaraderie of fellow St. Agnes Dads
The laid-back, informal meetings are fun and are by choice only (you can choose to attend as your schedule permits)
No dues required
For more information about Dads Club, email: dads@stagneskc.org